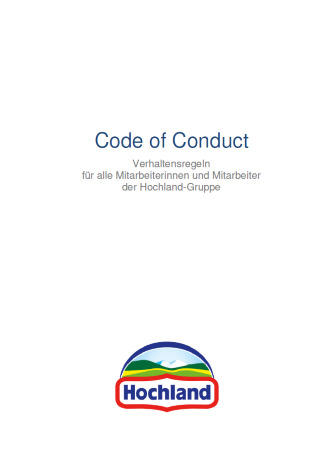 Hochland bekennt sich zu "Code of Conduct"
Der Erfolg von Hochland darf nur durch jederzeit faires, rechtlich und ethisch einwandfreies Handeln zustande kommen. Dazu bekennen sich von jeher die Hochland-Gesellschafter und die Unternehmensleitung.
Im Hochland-Alltag galten von jeher Verhaltensregeln im Umgang mit Mitarbeitern und Kollegen, mit Geschäftspartnern und Wettbewerbern. Sie wurden schriftlich und für jedermann transparent im "Code of Conduct" festgehalten. Nach den Leitlinien der Führung und Zusammenarbeit, die sich auf die interne Zusammenarbeit beziehen, will Hochland mit dem Code of Conduct auch nach außen zeigen, dass für unser Unternehmen verantwortungsbewusstes, ethisch und rechtlich korrektes Handeln von größter Bedeutung sind.
Hier können Sie den gesamten Wortlaut des "Code of Conduct" von Hochland herunterladen.